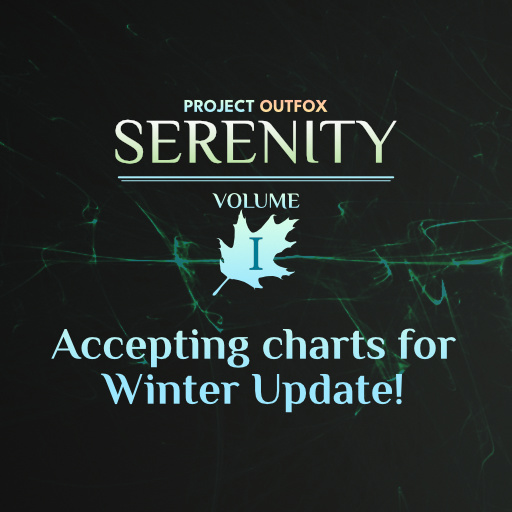 OutFox Serenity Volume I was our first-ever pack release, and we would like to thank everyone who took time to contribute or check it out! We are planning to formally launch the submissions process for Serenity Volume II in early-2022. But to help lead towarrds it, we're taking chart and graphics submissions for a Winter Update to Volume I that consists of three new songs:
If you're not familiar with them, please be sure to read the Serenity submission guidelines.
We've created a new Discord server specifically for Serenity development, In addition, we will now be using pull requests on a branch of Serenity's Git repository as our preferred method of submitting contributions, in order to keep things organized and make it easier for us to identify possible issues. If you're not used to GitHub, you can still send us chart files manually through the Discord server too.
You can also submit new charts for existing songs in game types that don't have them yet. Submissions close on December 29, 2021, and we plan a final release in January 2022.
---
Don't forget, music submissions for Serenity are always open, even if a new pack is not currently in development; we're constantly revisiting and reviewing the submission backlog as new submissions come in.